Gina and Stephan's Indian Adventure
December 5, 2000 to January 18, 2001

December 22, 2000: Day 18, Ooty
From: inabina30@hotmail.com
Date: 12/22/00, 8:15 AM EST (6:45 PM in India)
Re: Now in Ooty, at a different hotel than planned

Hi from Ooty (aka Udagamandalam)!

We finally managed to get sick, from the food in Kanya Kumari, where the choices just were not that good.... Gina did a commendable job tossing her cookies neatly into a barf bag that Rashmi had stolen from the flight over, while we were on our 14 hour train ride up from Kanya to Coimbatore. Rashmi and I also felt sick but were instead obliged to brave the train bathrooms rather more often than we wanted to. Luckily we had our own 2-tier AC sleeper compartment (even tho the train ride was during the day) so we were able to rest and were reasonably comfortable. We're still a bit sick but getting better all the time.

This was the start of a brief (I hope) run of bad luck after every thing had been going so smoothly. When we got to Coimbatore we foolishly believed the Lonely Planet guide's map which showed the hotel to be 400 meters from the train station... and walked more like 1.5 km with our packs, which was at first refreshing and then very tiring.

After that we ordered room service, which came with live cockroach frolicking under the plates and coffee instead of tea... we just sent it back and stuck to our crackers.

Today we took an amazing taxi ride up more than a vertical mile, much of that on a very steep almost cliff like area with many hairpin turns and hair raising near-collisions. More bad luck: The toy train is no longer running between Mettupalayam and Ooty, due to a landslide (but we may be able to go on a shorter stretch just for fun later). The good luck was, I suppose, that we made it up here alive.

On the way up we saw lots of amazing views as the sun rose, with beautiful mist on the mountains. Also lots of monkeys and partidge-like birds in and around the road. Even saw a capsized truck that luckily we were able to fit around and weren't near when it went over shortly before we arrived at the scene of the accident.

More bad luck: Our incompetant travel agent confirmed only one room in the Savoy here so we are at the Sullivan Court, which is also very nice and run by Sheraton (but not as nice as the Savoy). This is OK tho because we'll mostly be out and the price we got at the Sullivan Court is about 15% of the Savoy (mainly because they thought we were indians and not US people when we called on the phone). Boy, traveling with indians definately has some strong advantages. Now when we negotiate a taxi rate we always send Guru ahead while we hide... this got us a 550 Rs rate up here (1 1/2 drive) where most pay 1000 Rs.

After settling in and washing the prodiguous quantities of dirt off our skins (we've not had hot water in a hotel since I dunno when), we went for a walk in the beautiful botanical garden here, which was started by the british and is one of the few british gardens that is still being maintained in india. It's very steep and took us a while as we gasped for air (remember we went up more than a mile this morning in one hour). However, we did make it to the top.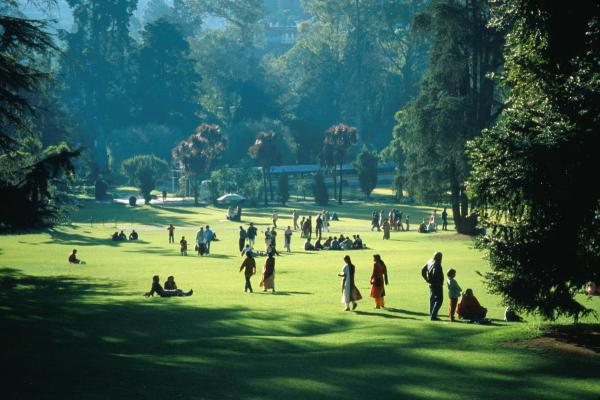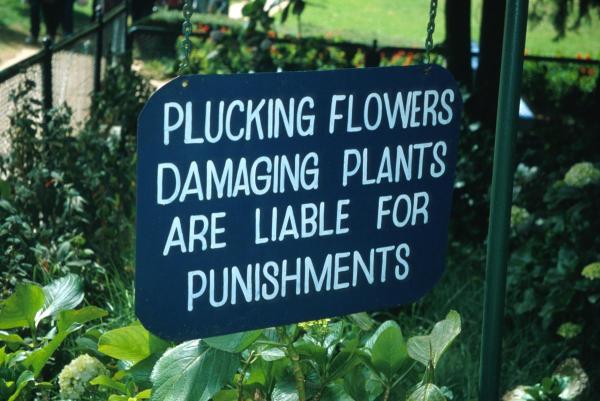 The reward was the small tribal village that is normally closed to the public, located outside of the top of the garden. Because one of the people there spoke Kanada (as does Guru), we were allowed to go in and see the houses and the temple. This is a beautiful building made of stone and thatch, with arched roof. We were not allowed inside or even that near it but sat for quite a while talking with one of the elders and a few other men about their beliefs, what they now do for the living, etc. This place was basically something straight out of 10000 years ago... the temple with it's standing stone circle around it and incised petroglyph rock art, the round livestock enclosure, the large boulder nearby that they worship as a god. And what a view they have! Beautiful vistas of the terraced tea plantations all around, and the mountains in the distance.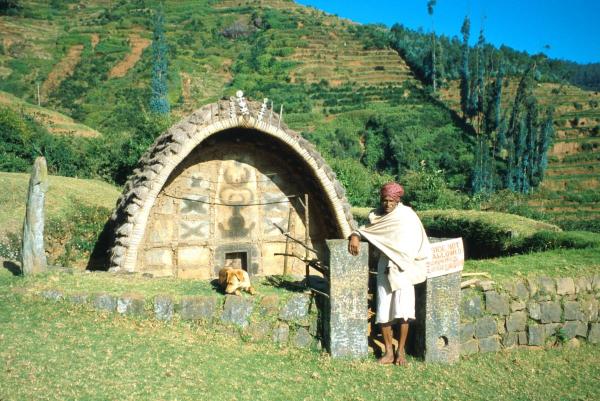 These people are the Toda, who believe they are descended from five Pandavas who had a fight with some cousins and settled here as a result of a settlement of some sort brokered by Krishna. Which basically means they've been here a long long time, as far as I can tell from seeing some of the signs in the culture and buildings we saw. They actually used to have a lot more land in this area but much was taken by the british and this is now a reservation of sorts (but it is one of their original locations and the temple has been there basically forever).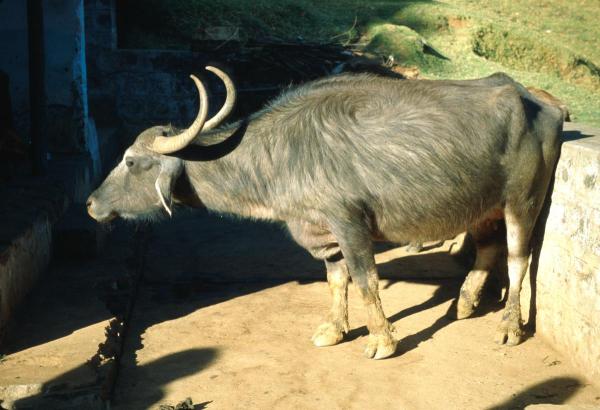 In the end we bought some amazing embroidered shawls from them and gave them a donation for the temple maintenance. We even got invited to a wedding in a small village 15 km from here, where we hope to go tomorrow (they will send someone to our hotel to ride with us in a hired car, since this place has no address). This should be really interesting if it pans out and we'll have more to write on this later.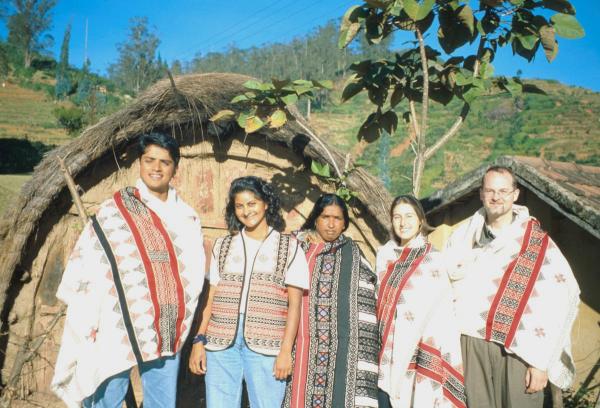 Yes, we got photos and we'll take more at the wedding (they already OKed this). We'll of course tell you more in the world premier of our slide show, assuming we manage to get all the photos home safely!
That's it for now.... some bad luck and some amazing luck too!
Love,
Stephan and Gina
---
Previous Installment | Indian Adventure Home Page | Next Installment
---
Send questions or comments to gina@deibel.net or stephan@deibel.net
Updated January 31, 2001