Gina and Stephan's Indian Adventure
December 5, 2000 to January 18, 2001

January 6, 2001: Day 33, Jaipur
From: inabina30@hotmail.com
Date: 1/5/01, 11:54 PM EST (1/6/01, 10:24 AM in India)
Re: Delhi and Jaipur

Hi from Jaipur!

Gina's back at the room with a back ache (probably due to three hours in the movie theatre last night, watching a crazy Hindi film, plus the bumpy rickshaw rides around town). And I'm here reporting dutifully, also feeling a bit ill again thanks to the Maharashtrian Thali from the other day. I'm now officially done with Thalis... ugh... this is basically too many different foods served in too large a quantity by waiters that circulate with buckets and slap the stuff onto your plate. Actually, it's very tasty but probably prepared a bit too long in advance and having been ill from it, I'm not very enthusiastic about the whole idea now.

Since last writing we flew from Bhubanshwar to Delhi, where we had a 24 hour layover because the 1/2 hour between flights on to Jaipur was (as expected) not enough time to change planes. This was however quite fortunate because Delhi is very nice, with broad tree-lined streets laid out in a radial pattern. It is no longer very polluted at all (contrary to outdated reports we've read, which bill it as the most polluted city in the world), and we managed to meet up with Eliza and Bob for breakfast and a shopping trip to the museum shop of an arts and crafts museum. There, I purchased a good 20 pounds of junk, which Eliza has foolishly (and too kindly) offered to carry back to the USA for us.

It was really nice to see them and compare notes on our experiences so far... quite different of course because we spent most of our time in the south, which is far less developed than up here, and far warmer. In fact, it's really quite cold here now, and I'm regretting ditching my long underwear and wind breaker back in Bhubaneshwar after I foolishly decided that the reports of cold in India were exagerated.

Here in Jaipur we are staying at another small palace that has been converted into a hotel. If they had central heating, this would be the nicest place we've stayed... very clean, comfortable, with beautiful ornate painted walls, nice furniture, etc, etc. What a contrast to these "luxury" carpeted rooms we've been stuck with in various places!

In Jaipur, we spent our first day looking at some of the palaces and forts, which are all far less impressive than the one in Mysore (so I don't know why all tourists seem to want to come here, except perhaps that there is an airport here and not in Mysore). Rashmi has a family friend here, who has been very nice and gave us lots of good suggestions, got us the tickets to the above-mentioned movie, and took us to a restaurant / amusement park set up like a traditional village from this area, where we had more delicious Thali food that in hindsight I no longer want to think about, thank you very much!

He also took us shopping yesterday, and Gina and I purchased a stack of very nice and nicely priced miniature paintings at an artists cooperative run by a friend of Deepak's (Rashmi's friend). Inspired by Eliza and Bob's amazing shopping accomplishments, and being closer to the end of the trip, we're starting to purchase more now. However, we probably should have done more in the south, which is much cheaper, and I distinctly regret not having purchased the amazing miniature painting panel from an artist near Puri in Orissa... actually, the panel was about 24x26 inches in size, with incredibly detailed painting better than what we've seen here... so the moral is buy in small rural out of the way places and not in places like Jaipur, even if you do have a local friend doing the bargaining for you!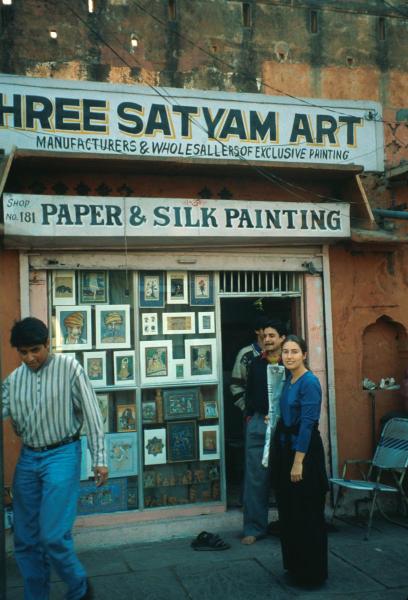 Other than that I've been photographing the pink buildings in the old city, the camels and elephants that are much more common here, the colorful shops, crazy huge loads people carry on bicycle rickshaws, and the usual stuff you see around India.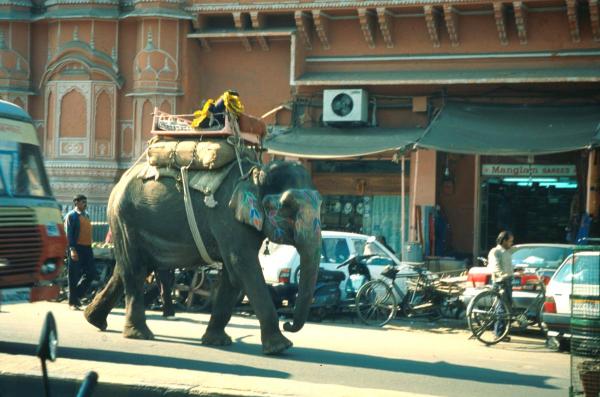 Today we're moving on to Udaipur, and I need to stop writing now in order to try to get this letter to send from this nice but not-so-well-connected internet cafe.
Hope all is well... and thanks all for your letters!
- Stephan (and Gina in absentia)
---
Previous Installment | Indian Adventure Home Page | Next Installment
---
Send questions or comments to gina@deibel.net or stephan@deibel.net
Updated January 31, 2001